Regular price
$145.95 USD
Regular price
Sale price
$145.95 USD
Unit price
per
Sale
Sold out
It's a new product in 2022, instead of the traditional pen tattoo machine, Wireless Tattoo Machine offers tattoo freedom anytime, anywhere. No cables, no power, no pedals! !
Obtaining the best wireless tattoo machine has become one of the most popular selection options among tattoo artists in the past few years. The wireless power supply for the tattoo machine is an economical and practical way of developing the design of this tool. They offer impressive performance and operate very smoothly and quietly.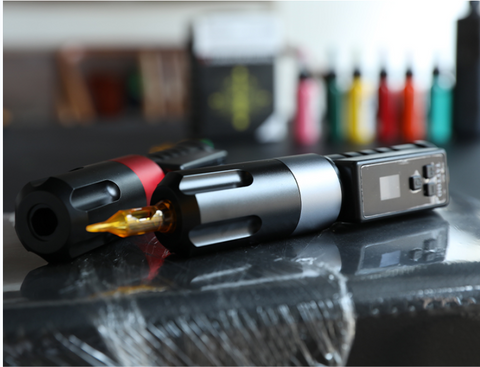 This Wireless Tattoo Machine's advanced gear system provides smooth, soft, and quiet operation for ideal healing. Flexible and lightweight for every style Transfers ink gently and smoothly onto skin; suitable for all skin types.
Item No.1002810
It have 3 colors can choose !
Battery capacity:1200MA
Higher speed
Charing time 2 hours, working hours, 2-3 hours Speed: 8000-10000rpm
Motor size: 27x7mm
Stroke: 3.5mm
4.2-12V, each time ±0.3V
What about Wireless Tattoo Machine cleaning and storage?
1. We wipe with anhydrous alcohol after each use. Anhydrous alcohol can not only remove the dirt from the Wireless Tattoo Machine, but also cool the tattoo machine.
2. After cleaning, wipe it again with a dry beauty towel, keep it dry and wrap it with plastic wrap for the next use.
3. The best way to clean the tattoo handle is to disassemble and clean it. After cleaning, put it in a disinfection cabinet for disinfection and preservation.
4. The tattoo pigments can be wrapped in plastic wrap and kept in the refrigerator to avoid dust and prolong the shelf life and stability of the pigments.
Precautions after tattooing:
1. You can take a shower after 6 hours but only shower.
2. When showering, you can use soap or body wash on the tattoo.
3. It is normal for scarring, peeling and itching after a few days of tattooing. Do not scratch the wound.
Prevent infection or depigmentation.
5. Do not use alcohol or purple medicine to treat the wound after the tattoo, which will destroy the color of the tattoo.
6. Eat less irritating food before the wound heals.
7. Within a week of tattooing, it is forbidden to swim or soak in water for a long time
Share
View full details